Quavo Denies Dissing Lil Peep On 'Big Bro'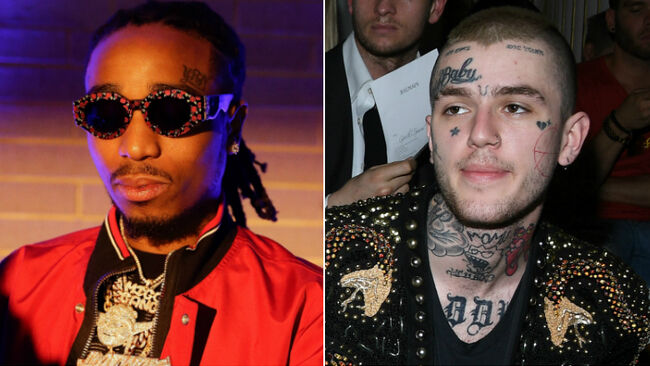 Quavo isn't one to take to Twitter to clear the air, however, the "Huncho" rapper took to the social media platform to make sure the world knew he did not mock late rapper Lil Peep's death on his new track "Big Bro."
Many called Quavo out for seemingly dissing Peep — who passed away in November 2017 of an accidental fentanyl overdose — shortly after the "Lamb Talk" rapper's solo album, Quavo Huncho, dropped last week. Peep fans, friends, and collaborators alike took offense to this verse: "Is you with me or against me?/ I'm a OG now so you need me/ Think you poppin' Xanax bars, but it's Fentanyl/ (No-no bars, it's Fentanyl/ Think you're living life like rockstars but you're dead now."
However, Quavo cleared the air on Monday (October 15), clarifying that the lyrics were about his former barber who lost his life to Fentanyl. "Lil Peep Is A Legend A Real Rockstar N E V E R will speak on the deceased," he wrote. "I believe in god I pray to GOD every day. I Dnt question GOD plans." Adding, "I lost my barber For 10 yrs to FENTANYL R.I.P. Show R.I.P XXX 🙏🏾 RIP TO ANYBODY WHO LOST THERE LIFE TO DRUG ABUSE!"
One of the most outspoken critics of Quavo's lyrics was producer Smokeasac, who worked closely with Peep. "F**k Quavo," he wrote on Twitter after Quavo's album dropped. "It's all love until you speak on my family especially my best friend who recently passed." Adding, "He tryna stir a pot up of drama and it's working. it's this amazing new marketing stunt... you just diss people who have passed in your new music for attention... Quavos legacy will be nowhere near as great as Gus's I put that on everything I love."
Following Quavo's clarification, Smokeasac retracted his previous statements. "I got mad respect for you for coming out with this statement. We needed to hear it. It's all love now! Thank you for clearing this up @QuavoStuntin real one," he wrote. "A lot of people/journalists have been speaking on peep lately in a bad way trying to drag his name, it's hard to not wanna defend him from it all. Quavo cleared that up and it's all love."